Silence FM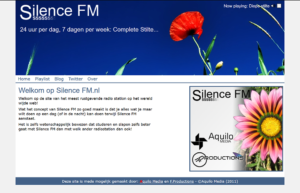 Transmitting the best silence tracks known to man, Silence FM is the radio station to listen to.
This website was launched on April 1st 2011, in the form of an April fool's joke and as a proof of concept created by our partner Aquilo Media in collaboration with W-Bench.
This website was created in less than 5 days. Website code was developed from scratch by Aquilo Media and the graphical design was done by W-Bench.
Specification Summary:
Code Base: Aquilo Media Custom Development
Graphic Design: W-Bench
Responsive Design: No
Special Features: Build in 5 days