Timeless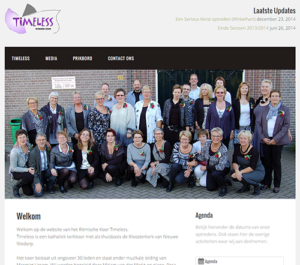 This website is built for the Dutch church choir Timeless. This choir consists of about 25 members and is under the musical direction of Amy.
Usually they sing the first weekend of the month at their regular church. Timeless is also preforming at anniversaries, concerts and funerals. There repertoire consists mainly of gospel and edited pop.
Based on WordPress, this website consists of a Photo Album, News/Stories page, Calendar and Google Maps integration. The design is based on a WordPress template, but this template is completely rebuilt to meet with the color and trademark of Timeless.
Specification Summary:
Code Base: WordPress
Graphic Design: W-Bench & WordPress Template
Responsive Design: Yes
Special Features: Photo Album, News/Stories page, Calendar and Google Maps
Current Status: Offline